Stonework Patios, Paths, Landscape Features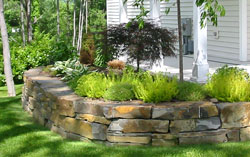 With each natural stone project our goal is to create a lasting monument. Every detail from drainage to pitch and batter are followed to precise detail. The result is stonework that can be enjoyed for generations to come.
Whether your project is a flagstone patio or walkway, raised planting bed or retaining wall, Powersource Landscaping will create one that you'll be proud of.
Please visit the project gallery for a closer look at some of our past projects.
We have used Powersource Landscaping for two major landscaping projects, and we can't begin to say enough good things about George Little and his company. Both projects included large stone patios and stone walls. The end result for both were beautiful, unique hard and soft scapes that we use everyday and which have greatly improved the value of our home.
Chris Collins and Kristie Mahoney